Search & Find – Hidden Objects Man City update is out now on the Apple App Store and Google Play!
This has been an exciting week in the UK, as the gradual reopening saw the return of pubs, gyms and of course, Search & Find – Hidden Objects! This hotly anticipated update delivers a brand new content pack featuring the legendary Manchester City Football Club. With 6 new club-themed pictures, search kit and Moonchester serving hints, the Man City update is a must-have for fans of all ages.
This update also brings various improvements to ensure smooth and enjoyable gameplay.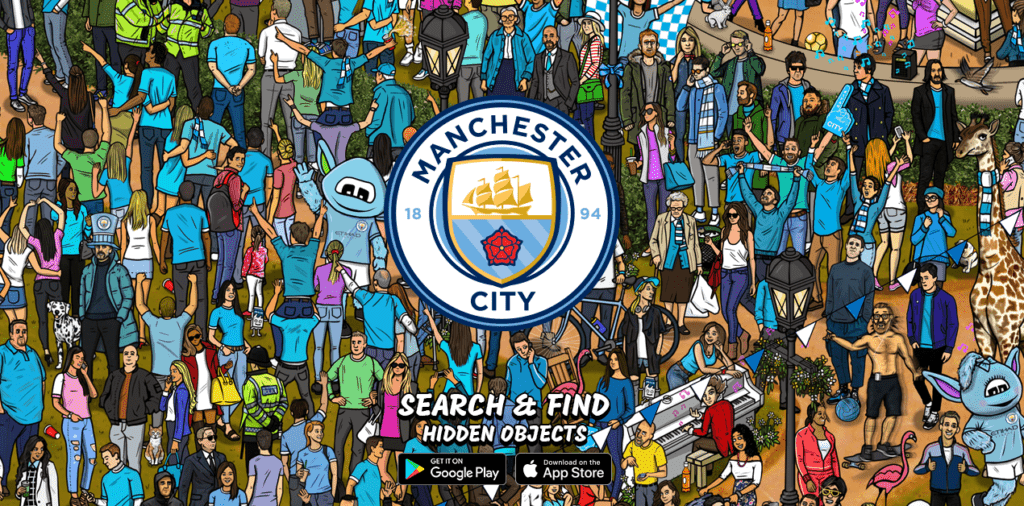 You can download the update now on the Apple App Store and Google Play.
Search & Find – Hidden Objects Features

With an online community of over 250,000 puzzle enthusiasts, Search & Find: Hidden Objects has gone mobile and invites you to join the search party!
With beautifully detailed, hand-illustrated pictures by published puzzle artist Adam Doyle, Search and Find: Hidden Objects serves a relaxing adventure for everyone ready to perfect their spotting skills. Put those detective skills to test and join in on the fun.
PICTURES WITH A THOUSAND STORIES
These detailed illustrations from Adam Doyle tell a thousand stories, making the experience different for everyone. You'll travel the world and explore themes, such as a lantern festival or even a very English celebration. Wait, is that Elvis?
INTUITIVE HIDDEN OBJECT GAMEPLAY
Identify what object you need to find, move around the picture with your finger, pinch and zoom to explore in detail and tap the object to select it. If you need a helping hand, tap on the magnifying glass for a hint. Some objects are hidden so well that you'll need to work up to that level of wizardry.
PLAY WITH FRIENDS
Feeling social? Invite your friends and share the fun. Help each other out, send gifts or strike up a little competition on who has their eyes on the prize.
FUN & REWARDS FOR EVERYONE
Customise your tools and just dive into the quirky hand-illustrated world of quirky details. There are rewards a plenty for those with an eye for detail.
LOVE ANIMALS? WE GOT YOU!!
For doggy aficionados, we have hot dogs, we have cool dogs. From mysterious cats to cute squirrels, can you spot the hiding furball?
You can download Search & Find – Hidden Objects on the Apple App Store and Google Play.
Looking for more Search & Find fun with likeminded folks? Join our Facebook community HERE
For more Curioso games, see HERE